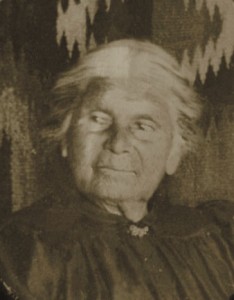 Mexican families settled in the Salt River Valley early and participated in the important work of building the structures and infrastructures for the new settlement of Hayden's Ferry (later Tempe). The new canals delivered water to the fertile soils of the southside lands where agriculture and ranching flourished. The community of San Pablo, located on 80-acre site at the base of Tempe Butte (now the site of ASU's football and basketball facilities), was home to many of the prominent Mexican families of early Tempe including the Sotelos.
Tiburcio Sotelo owned shares in the Tempe Irrigating Canal Company and, in 1871, purchased 160-acres of land located on the present-day southeast corner of Rural Road and University Drive. Tragically, the same year, Tiburcio along with his sons Jose and Feliciano died. Nevertheless, Manuela Sánchez Sotelo moved north from Tucson to Tempe with her eight daughters and a son. The family planted wheat, garden vegetables, and herbs which Manuela successfully sold and traded. Within a few years, she developed a reputation as a woman of honor and financial worth. As a shareholder in the Tempe Irrigating Canal Company, she was one of a few women in the Salt River Valley to hold the water rights to her property. In 1890, Manuela Sánchez Sotelos received a patent on her lands – the "Sotelo Addition."
Manuela subdivided her lands, sharing some acreage with her children, selling some to other Mexican families, and providing access for the Hayden Branch off the Tempe Canal to pass through her property so her neighbor, Charles Trumbull Hayden, could run water to his flour mill. She also provided support to neighbors and friends. Manuela shared her skills in the kitchen with newcomers, administered first-aid care, supported the growing Tempe and the Territorial Normal school, and was an important contributor to her Catholic parish.
Manuela Sanchez Sotelo died of pneumonia in her Tempe home at the age of 82, in 1902. Her legacy lives on.
To learn more about Manuela, download the full transcript below.